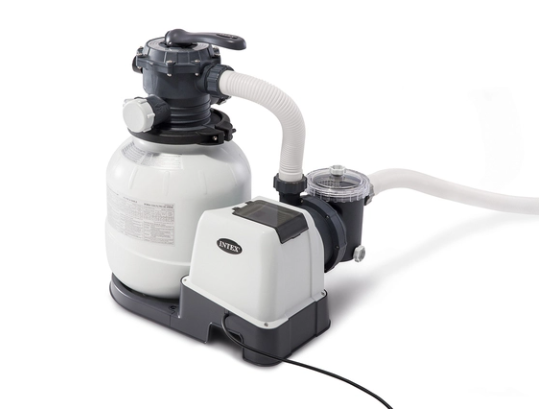 Krystal Clear™ Sand Filter Pump - 2100 GPH 26645EG
---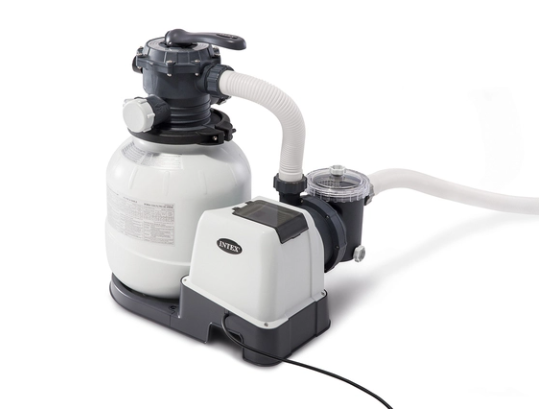 Keep your above ground pool water clean, soft, and refreshing with the Krystal Clear™ Sand Filter Pump by Intex®. The sand provides excellent water filtration as the 6-function control valve allows the pool owner to: filter, backwash and rinse, recirculate, drain and close the system. The built in 24-hour timer adds to the hassle-free experience with maintaining a cleaner pool. The strainer basket provides easy-cleaning, and prolongs the life of the sand. The Krystal Clear™ Sand Filter Pump generates a pump flow rate of 2,100 gallons per hour, ideal for above ground pools. This pump requires virtually no maintenance except replacement of sand every 5 years.
Compatible with 18ft, 20ft Ultra XTR Frame Pool; 24ft x 12ft Ultra XTR Rectangular Frame Pool
Hydro Aeration® Technology by Intex® - transforming the Above Ground Pool industry, by bringing revolutionary water aeration techniques into your backyard above ground pool.
Benefits include:

Improved circulation and filtration
Improved water clarity
Increased negative ions at the water surface
Specifically designed for above ground pools
Pump Flow Rate: 2,100 gph
System Flow Rate: 1,600 gph
Six functions : filter, backwash, rinse, re-circulate, drain and close system
24-hour timer with 2 to 12 hour pre-set cycles for automatic operation
Includes two 1.5in (38mm) connector hoses
Built-in ground fault circuit interpreter (GFCI)
Meets UL/CSA standards
2 Years Limited Manufacturer's warranty
Plunger valves and 1.5in (38mm) outlet fittings not included
One Hydro Aeration® Technology inlet fitting included
Specifications:

Tank size: 12in (305mm)
Sand capacity: 50lb (23kg) #20 Silica
Glass media capacity: 35lb (16kg)
Pump motor: 0.3 HP
Turnover rate: 1,600 GPH (6.0 m3/hr)
Minimum pool size (water capacity): 2,800 gal (10.6m3)
Maximum pool size (water capacity): 12,800 gal (48.4m3)
This product has no reviews yet.