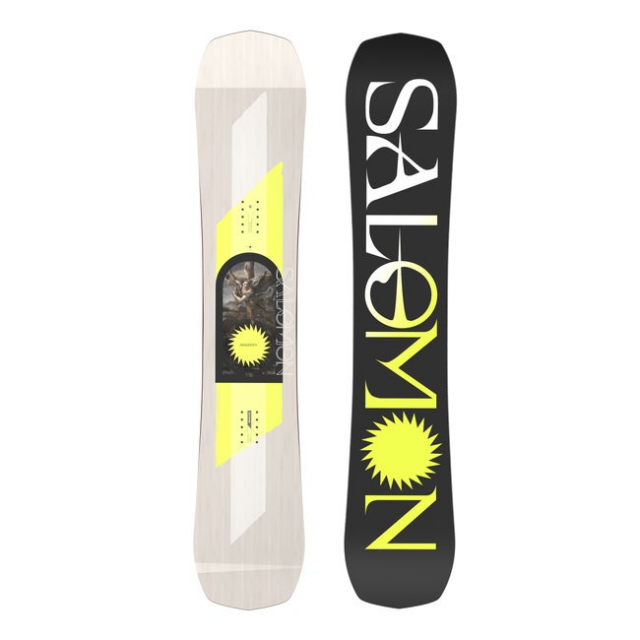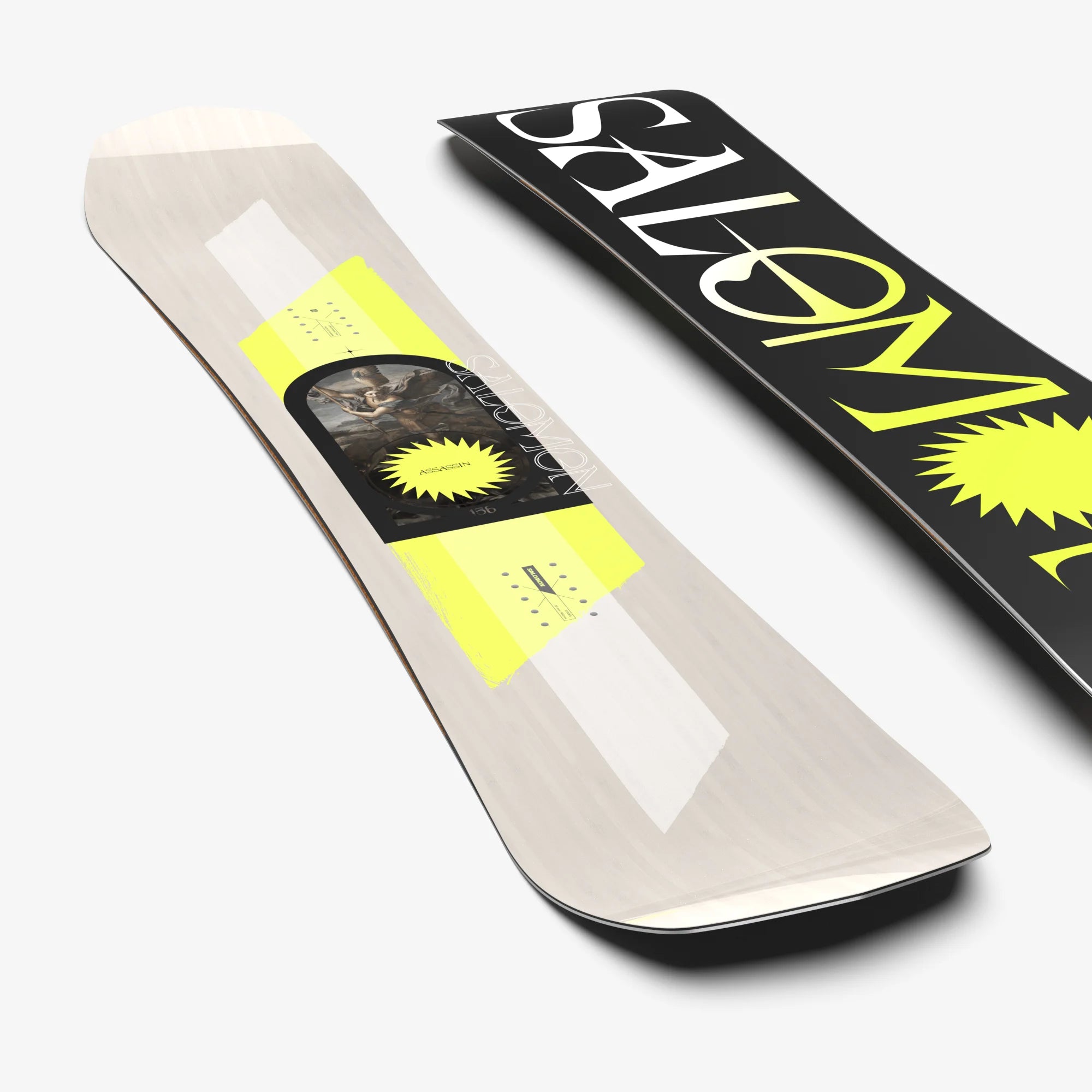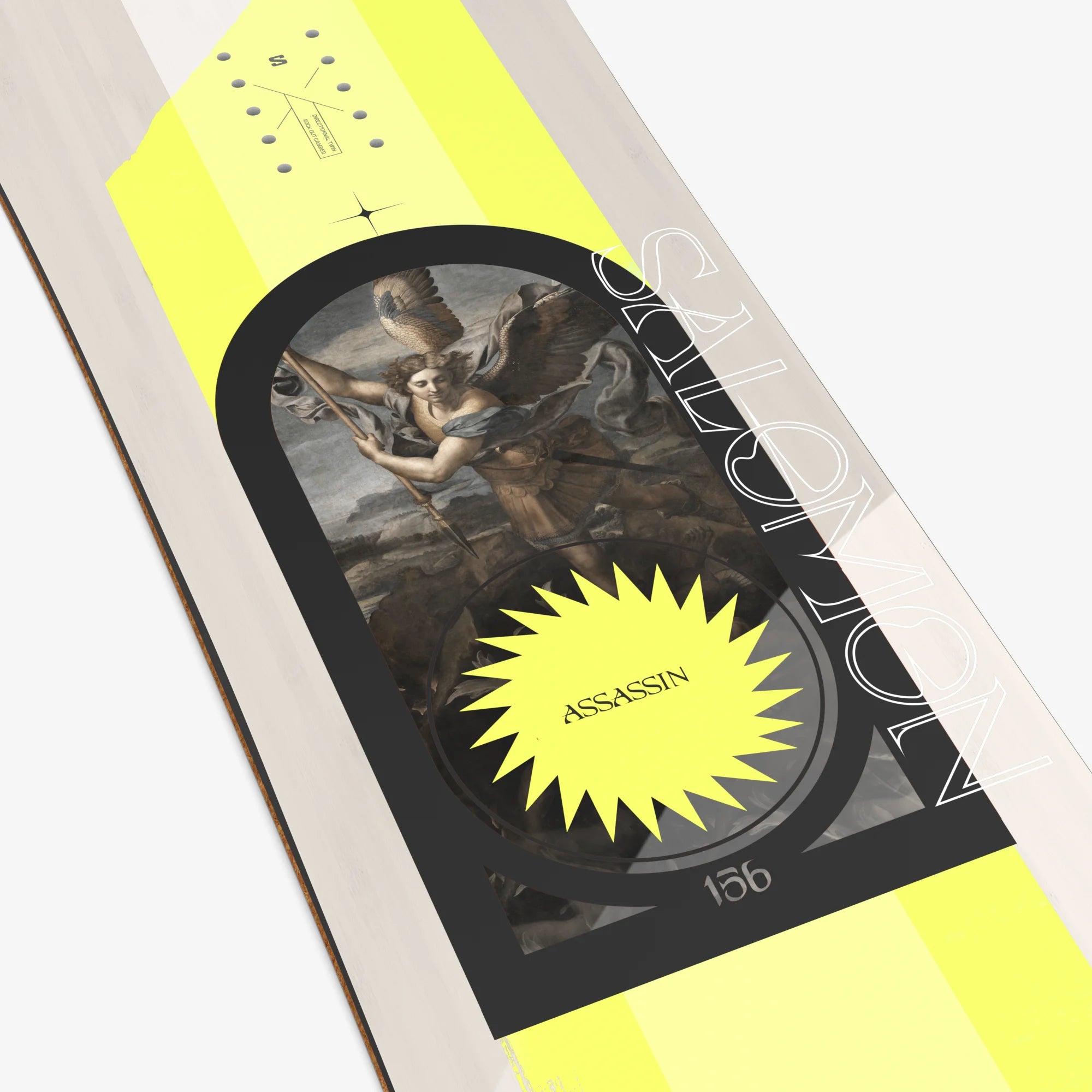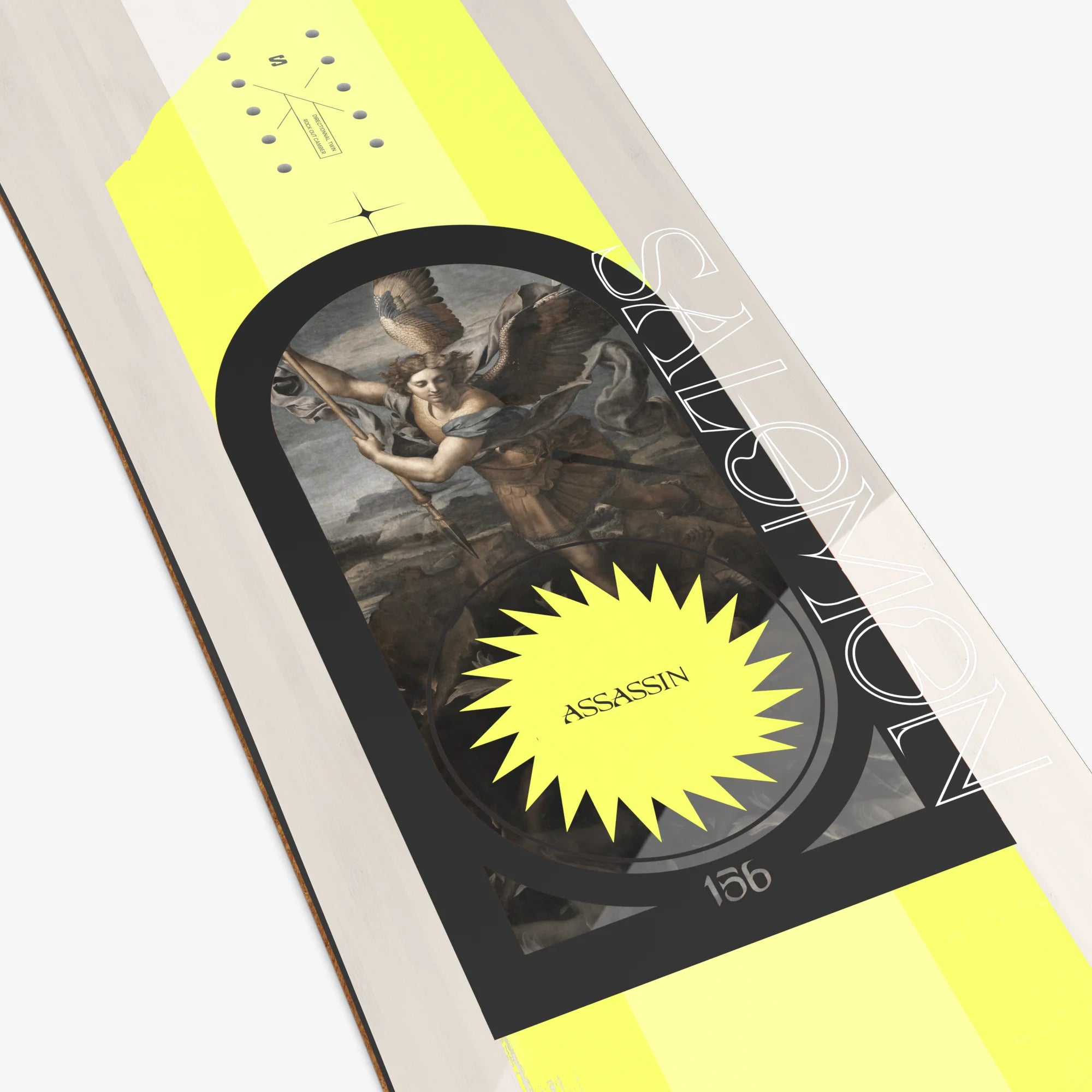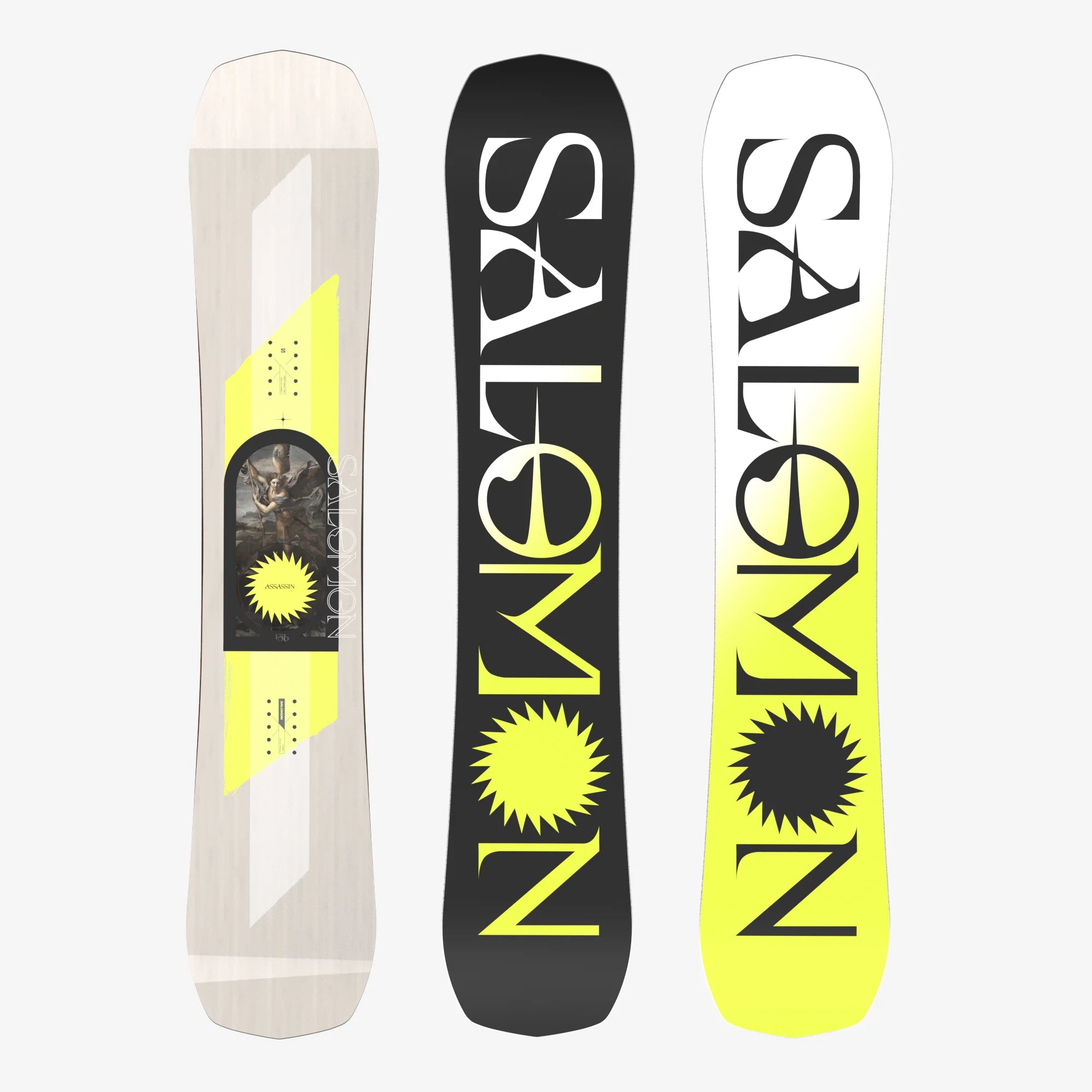 2024 Salomon Men's Assassin
---
2024 Salomon Assassin

WHAT IT IS FOR
The versatile freestyle Assassin has a directional twin shape and is built with a long list of technologies, making it a ride-anything solution. The Assassin is designed for float in pow, stability on high-speed groomers, and premium park performance.
BENEFITS

Versatile
A cross between our most progressive powder and freestyle board constructions.
Pop
Get maximum snap with bamboo and carbon loaded Popster Eco Booster.
Agile
Quadralizer's explosive combination of Equalizer and Quadratic allows high speed carving as well as superior edge control in tight spots.
FEATURES

BOARD PROFILE: Rock Out Camber
Flat between your bindings for stability, Camber near the feet for response and a rocker on the tip/tail for pressability.
SIDECUT: Quadralizer
Explosive combination of Equalizer and Quadratic allows high speed carving as well as superior edge control in tight spots.
ADDITIVES: Popster Eco Booster
Popster Booster plus Bamboo rods to provide the best in eco pop and performance.
SHAPE: Directional twin
A twin shape for freestyle moves with a directional flex for power at high-speed. Binding stance is set back from center slightly.
FIBER & RESIN: BA MD fiberglass
Medium density European-made fiberglass layers guarantee a consistent quality level, for light and lively boards.
FIBER & RESIN: GreenPoxy 28
This bio-epoxy resin is made with 28% of its molecular structure derived from plants.
BASE MATERIAL: Sintered EG
Engineered for fast glide speed and maximum wax retention in all conditions. Gallium strengthens impact resistance, while the Electra finish enhances speed.
CORE TYPE: Aspen SLCT
Every single wood strip is hand selected to ensure unparalleled core quality and lightness.
BASE FINISHING: Fine stone finish
Our fine stone finish is particularly efficient on our Sintered EG base, speed up in powder or softer snow conditions.
BASE FINISHING: Natural wax
A paraffin-free wax compound made from natural ingredients. A non-pollutant compound held to the highest standards of glide speed.
EDGE FINISHING: Freestyle EB
Equipped from the factory with a 2-degree bevel around the nose and tail and a 3-degree bevel between the feet, providing a balance of edge hold and forgiveness on rails.
SUSPENSION: Royal Cork Rails
Protect the planet and your edges with this eco version of Royal Rubber Rails. All the impact and chatter absorption you need while standing up for Mother Nature.
TOPSHEET: ABC Wrapper
More pop, less plastic! ABC Wrapper is a patented process using structural wood veneers to reduce fiberglass and resin content in each board by 40%.
INSERTS
4X2 INSERTS
BASES COME IN RANDOM ASSORTED COLORWAYS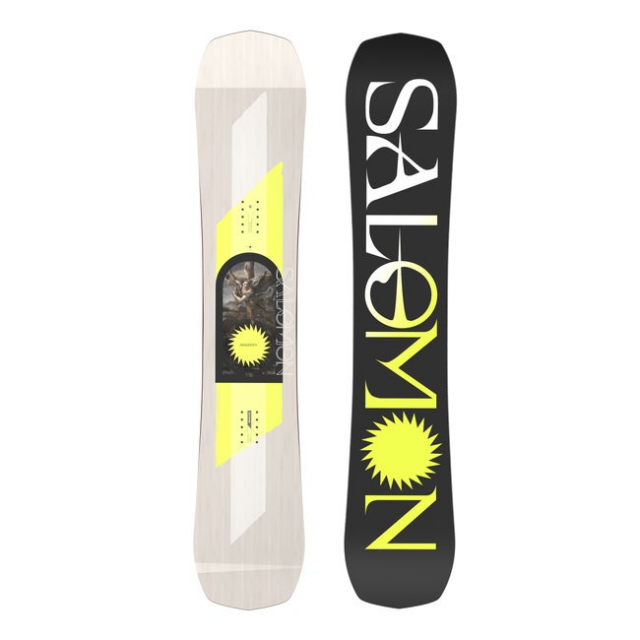 This product has no reviews yet.