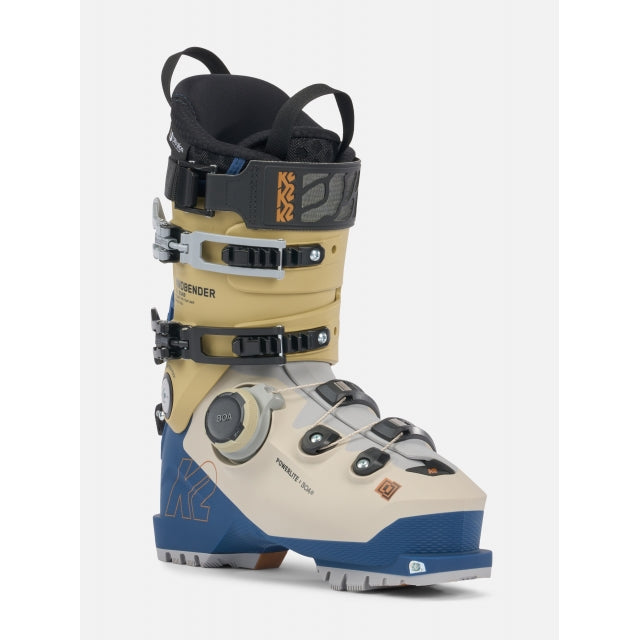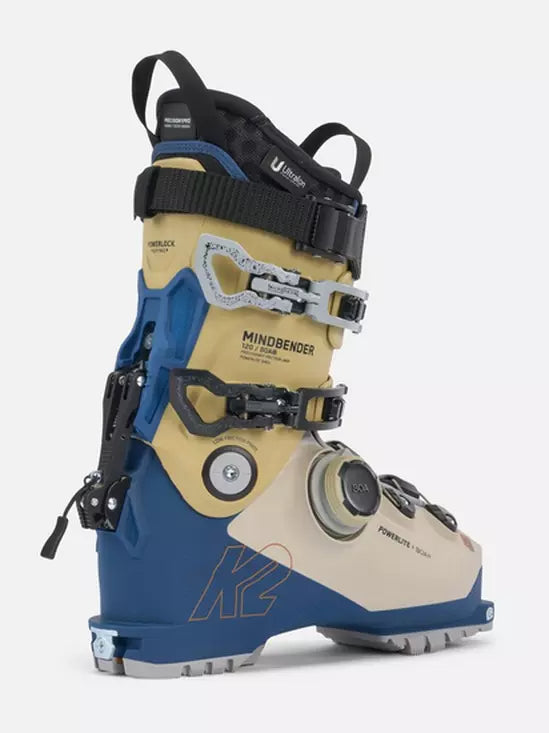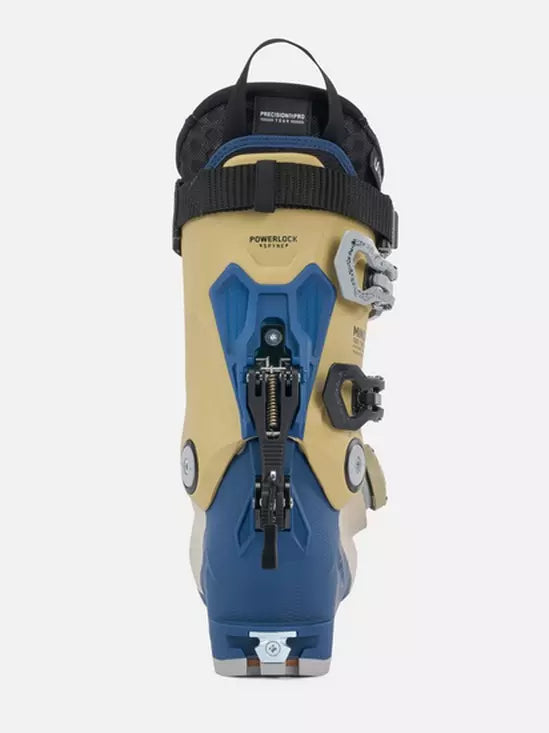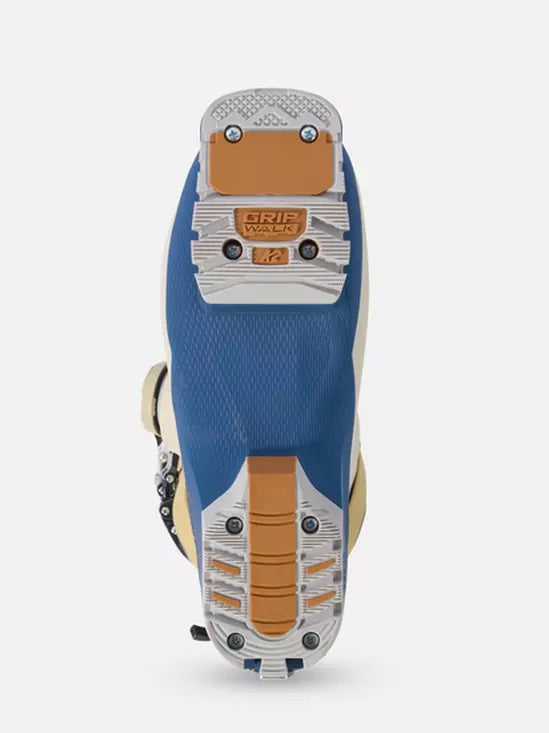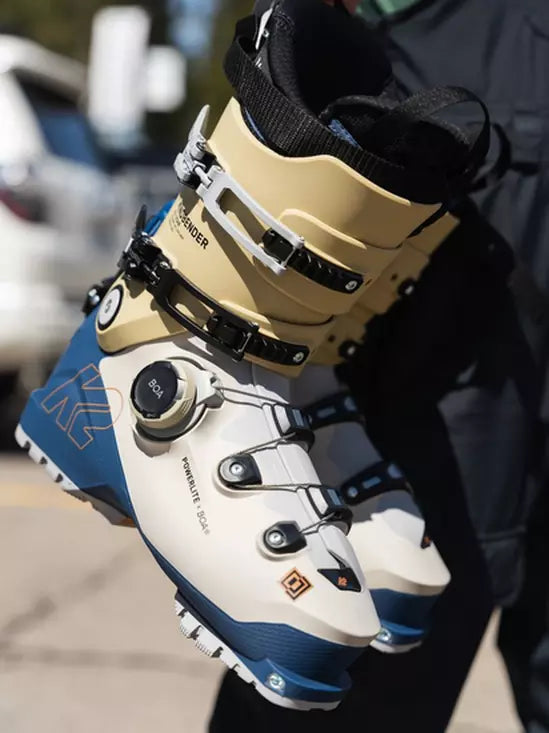 2024 K2 Mindbender 120 BOA
---
The Mindbender 120 BOA® boot pairs a heat moldable Powerlite Shell construction with the micro-adjustability of the BOA® Fit System and MultiFit Last resulting in unparallel performance and fit. These boots are chalked full of technology – featuring FastFit instep for easy entry and exit as well as integrated tech fittings and Powerlock Spyne walk mode boasting 50 degrees range of motion. The Mindbender 120 BOA® boots are perfect for the freeride skier looking for one boot to do it all. The Mindbender 120 BOA® is hard to beat.
FLEX/FEEL:

BOA® FIT SYSTEM:
The BOA® Fit System, provides a performance fit engineered to enhance feel, and responsiveness while reducing pressure points by incrementally modulating the Alpine boot closure with precise micro-adjustments.

H+I1 DIAL:
Provides micro-adjustable, precision fit and quick release, with quality and durability guaranteed. The BOA dial platform features a breakaway design engineered to eject the dial cartridge upon severe impact without damaging the system, allowing skiers to pop the dial back into the bayonet midmountain. In the unlikely event that the system is broken, it can be easily repaired and replaced.

BOA® FIT SYSTEM: DIALED IN:
Precision fit with on-the-fly tightening and loosening for enhanced responsiveness, optimized pressure distribution, and reduced pressure points.

BOA® FIT SYSTEM: LOCKED IN:
Connected fit designed to uniformly wrap the foot and minimize downward pressure, increasing heel lock-down for improved power and edge-to-edge control.

BOA® FIT SYSTEM: CONFIDENT:
Engineered for confidence and built to withstand rugged terrain and inclement weather, BOA® dials and laces deliver extreme durability. Bayonet and cartridge system ensures continued operation, even after heavy impacts.

MULTIFIT™ LAST:
The MultiFit™ Last was developed in conjunction with the BOA® Fit System to accommodate a variety of foot shapes ranging from 97mm to 100mm out of the box (and up to 104MM* with heat molding) eliminating the need for multiple last option (LV, MV).

POWERLOCK SPYNE:
A performance-oriented walk mode designed for ski touring that offers a 50-degree range of motion. When in ski mode, Powerlock Spyne provides a powerful and secure connection for uncompromised downhill performance.

PRECISIONFIT PRO TOUR:
Laceable, Pre Molded and Lasted with Ultralon heat moldable foams. Features an asymmetric tongue, a high-density power collar and a flex notch for increased range of motion while hiking.

INTEGRATED TECH FITTINGS:
Tech fittings in the toe and heel are fully integrated into the shell injection, allowing for compatibility with both tech bindings and alpine DIN bindings.

GRIP WALK OUTSOLES:
Removable and interchangeable ISO 23223 alpine rockered soles collaboratively designed to work with Marker's Grip Walk binding system for better grip and added comfort when walking and standing in boots, but doesn't compromise the power transmission and release function between the boot and binding when skiing. Preinstalled.

FASTFIT INSTEP:
Softer TPU material is used in the instep area of select models' shells for quick and easy entry and exit.

FULLY HEAT-MOLDABLE:
Both the boot's shell and cuff are capable of being heat-molded to a variety of foot shapes for a true custom fit.

FRICTION FREE CUFF PIVOT:
An easy-hinging cuff pivot designed to provide minimal resistance while in walk mode.

MICRO-ADJUST BUCKLES:
Dial in the fit of your boot by spinning the buckle clockwise, (tighten) or counterclockwise (loosen) for the perfect fit.

HARSHMELLOW™ INSERT:
Soft or rigid inserts in the heel of all the boots with BOA® fit system allow the rider to customize the feel, and responsiveness depending on personal preference; softer insert (blue) for extra damping, or a more rigid insert (grey) for improved power transfer.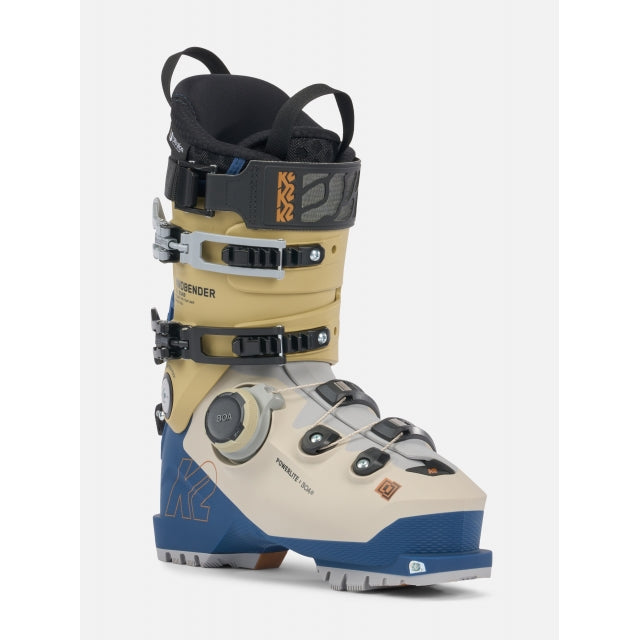 This product has no reviews yet.