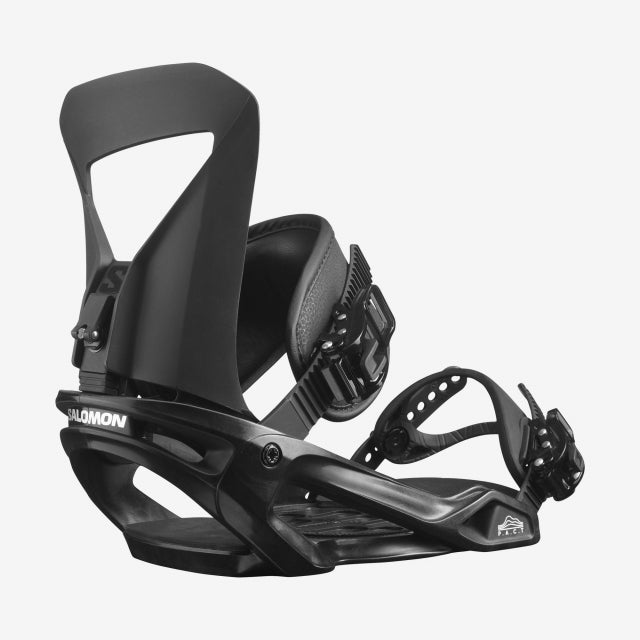 2024 Salomon Men's Pact
---
2024 Salomon Men's Pact
Details
Designed for accessibility the Pact binding has everything you need and nothing you don't. Ergonomically designed with an asymmetrical highback and strategically placed EVA foam underfoot the Pact provides all day comfort while the 3D Prime ankle strap keeps you locked in so you can focus on progression.
Features
ANKLE STRAP - 3D prime ankle strap:

 

The 3D Prime features a 3D construction that matches our boot's tongues. Creating even, seamless contact with your boot no matter how loose, or tight you buckle 'em down.

HIGHBACK - Pact:

 

Soft flex and an ergonomic fit designed to facilitate progression.

BASEPLATE - Zone baseplate:

 

Boarding basic. Durable and easy to fit, available in three sizes-the Zone baseplate is easy to use, easy to ride.

BASEPLATE COMPONENTS - 30% fiberglass nylon composite:

 

Get the most out of our bindings. More rigid than our competitor's low end plastic, more durable and comfortable than aluminum. Performance is maximized, comfort is undeniable.

BASEPLATE COMPONENTS - Toolfree Adjustable toe ramp:

 

For easy adjustability for the best transmission on toe edge.

BASEPLATE COMPONENTS - Universal Disc:

 

Ultimate compatibility with all existing mounting systems on the market. Available on all models $149 and up.

BASEPLATE COMPONENTS - IMS:

 

Integrated Mounting System (IMS) is Salomon's patented trick for keeping your disc screws in place while adjusting your bindings or swapping out boards.

BASEPLATE COMPONENTS - Unite disc compatibility:

 

The baseplate is compatible with our super easy to use rental system UNITE.

HIGHBACK - HB Filter:

 

Exclusive to Salomon. Our unique vibration filtering material absorbs unwanted shock, less leg and foot fatigue, more riding.

HIGHBACK - 12° Pre-rotated shape:

 

Ergonomically prerotated for a natural fit and precise energy transmission.

TOE STRAP - Lock-In toe strap:

 

Our upgraded, cored out Lock-In Toe strap grips your boot to simplify and secure your set up.

PADDING - Pact EVA pad:

 

Strategically placed EVA pads for increased comfort in all conditions.

STRAP ADJUSTMENT - Toolfree Strap Adjustments:

 

Just that: easy length adjustment on the fly with no tools needed.

RATCHET - Composite buckle lever:

 

Composite materials combine to the 3 axis mechanism for a super deep throw, with a three point hinge and powerfully smooth adjustment.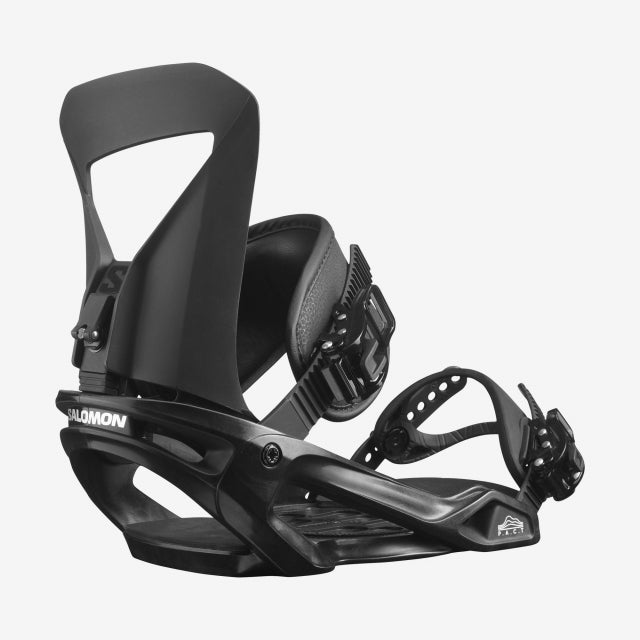 This product has no reviews yet.