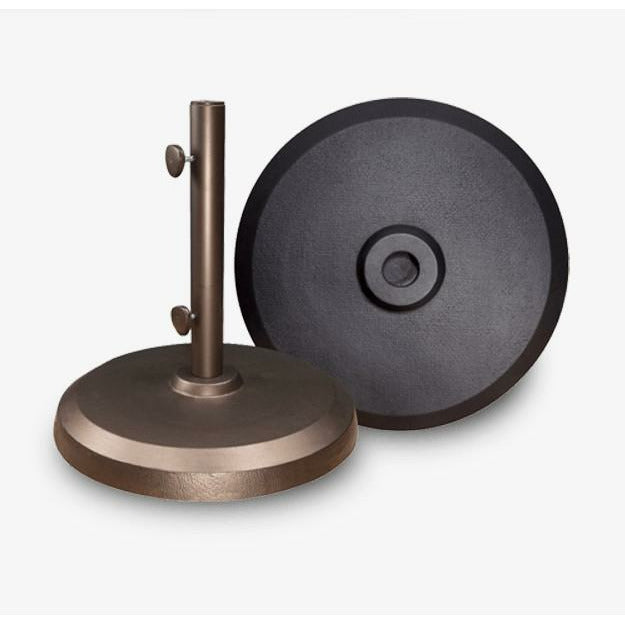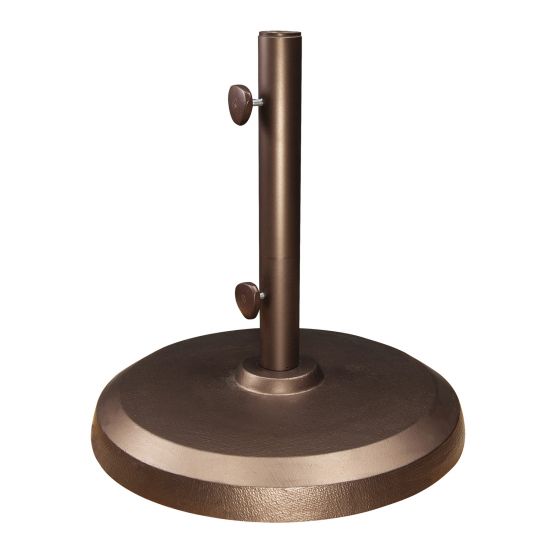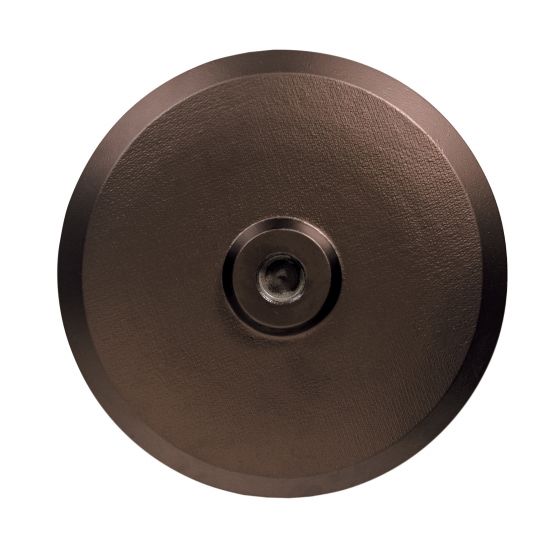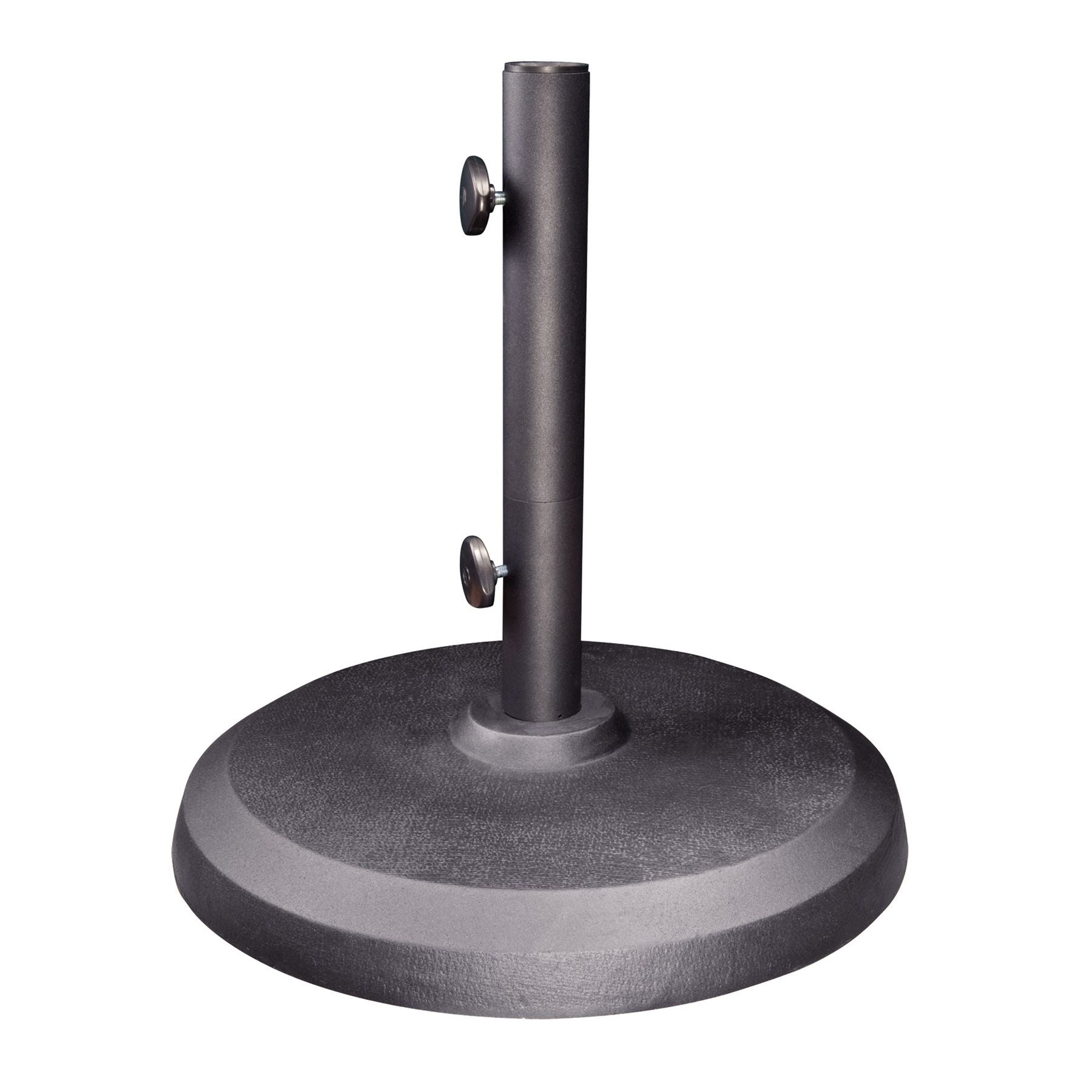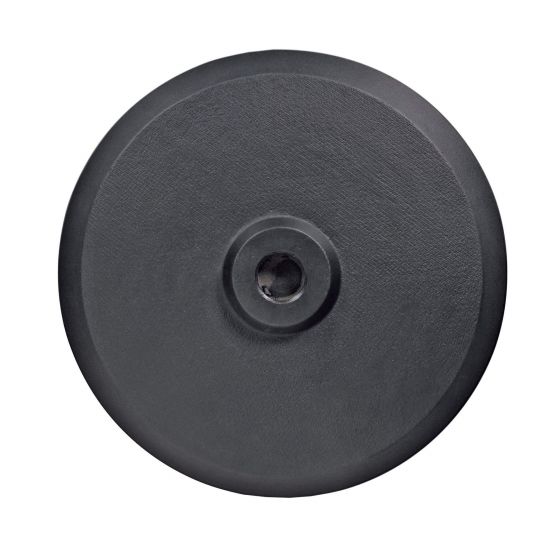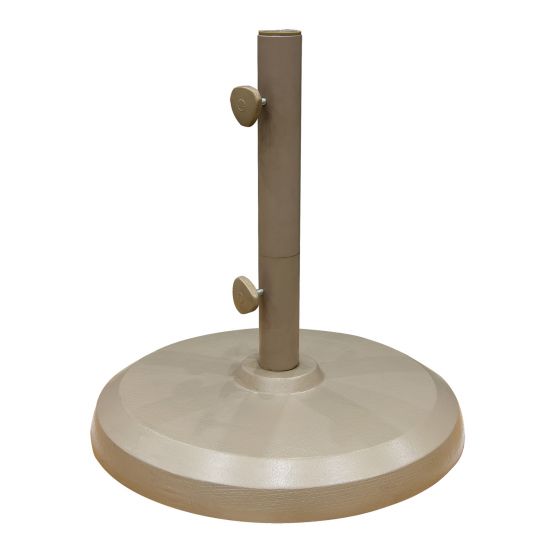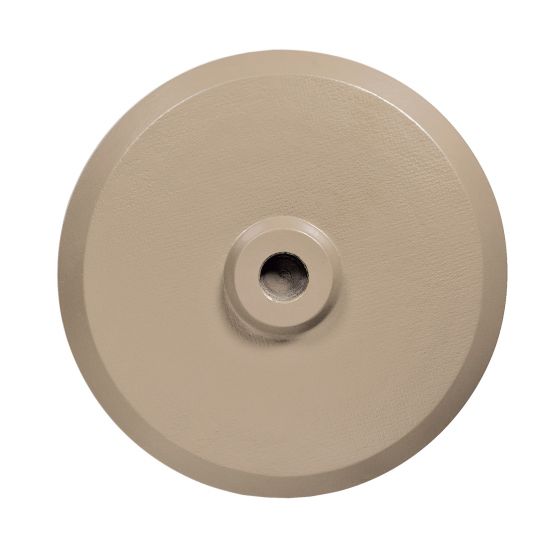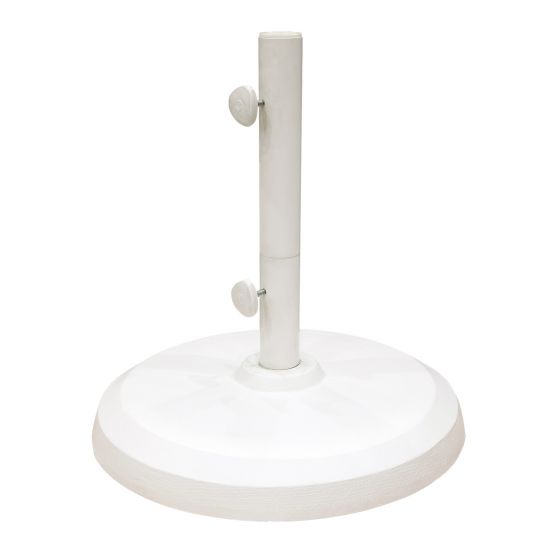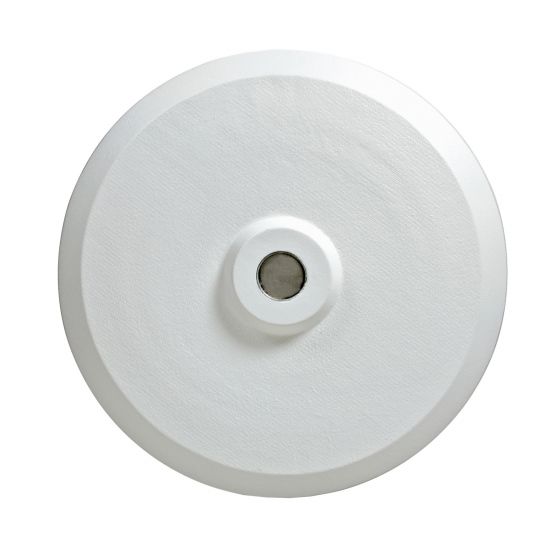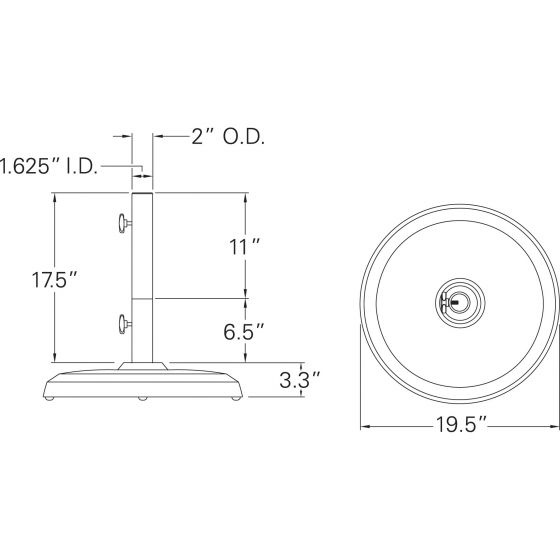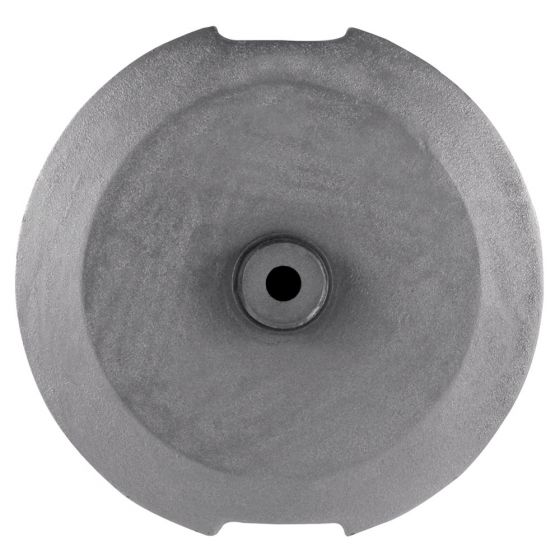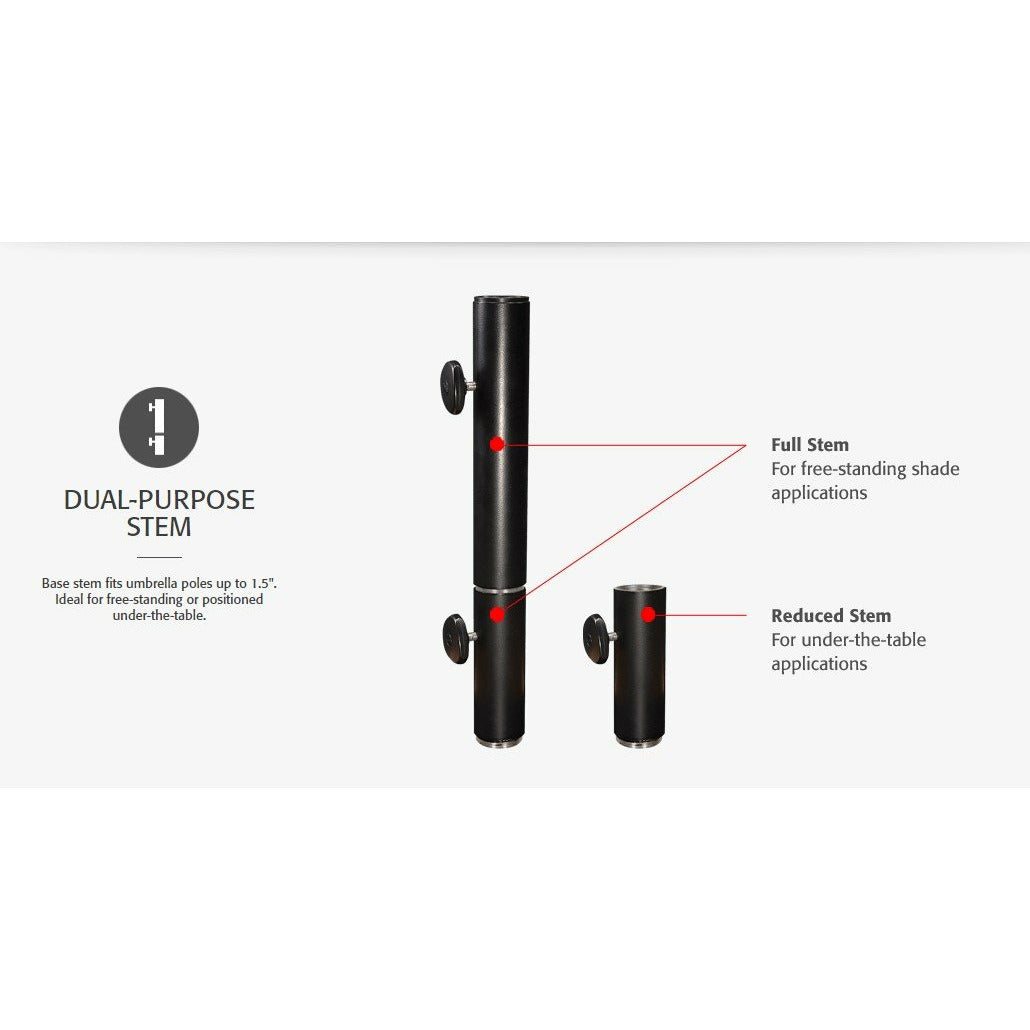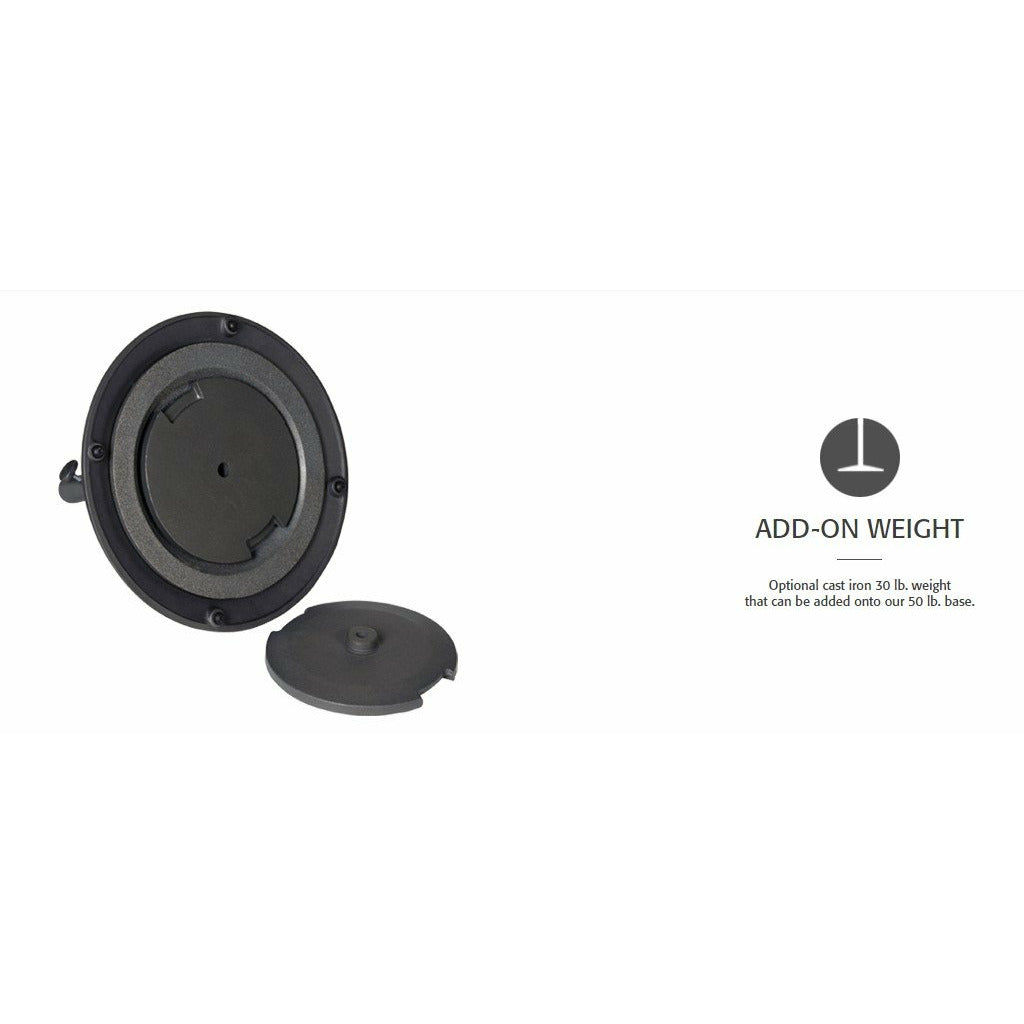 TREASURE GARDEN Garden 50 Lbs. Cast Aluminum Market Umbrella Base 19.5" (BG50)
---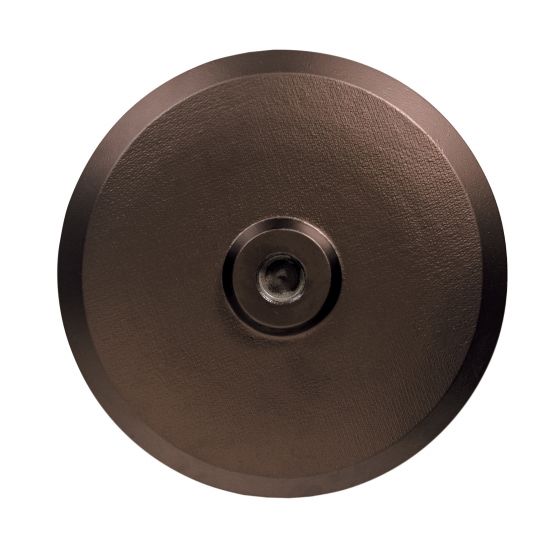 The Garden 50 Lbs. Cast Aluminum Market Umbrella Base 19.5" (BA50) by Treasure Garden has a consistent, clean style that will blend well with your umbrella frame finish and the rest of your patio collection. Designed for residential use, this base is built with a cast aluminum shell and a cast iron center to ensure long lasting durability and corrosion resistance. Its dual purpose stem allows you to enjoy your umbrella with a patio table or freestanding. It is available in 5 sleek, rust-proof finishes and will fit any umbrella pole up to 1.5" in diameter. However, if your umbrella pole is larger, you can purchase a 2" aluminum stem to go with this base.
Includes
One (1) Treasure Garden 50 lb. Garden Market Umbrella Base BG50
One (1) Dual Purpose Stem
Add on weight sold separately
Recommended Umbrella Sizes
Supports umbrellas up to 9' when used with an outdoor dining table
Not recommended for free standing umbrella use
Dimension
Diameter: 19.5"
Weight: 50 lbs.
Base Height (not including stem): 3.3"
Full Stem Height: 17.5"
Reduced Stem Height: 6.5"
Features
Cast aluminum shell and iron core built to last and match your umbrella frame
Full stem is used for free-standing applications to give your umbrella additional weight and support
Ideal fit for lightweight umbrellas and smaller patios
Add-on weight also available with this model

Designed for residential use
Care and Maintenance
Like your umbrella, your base will last longer when cared for properly. Simply hose off to clean and make sure all fittings are secure before opening your canopy. If you experience storms or high winds often, we recommend storing your base away from the elements to prevent damages to the finish. If you plan on using your umbrella near salt water or an indoor pool, wipe the frame and base down regularly to prevent paint blistering. When adjusting your umbrella, keep others at a distance to prevent accidental injuries or material damage.
About the Manufacturer
Treasure Garden has built a reputation of leadership by producing top quality, custom-made, handcrafted umbrellas, rugs, and furniture covers. Our designers combine advanced technology with the latest color and fabric trends to enhance our products and their performance every year. Thanks to the 6,000 employees who share in the same vision and their attention to detail, Treasure Garden continues to be "The World's Favorite Shade."
To see TREASURE GARDEN Garden 50 Lbs. Cast Aluminum Market Umbrella Base 19.5" (BG50) full collection visit https://www.treasuregarden.com/garden-p-116.html
This product has no reviews yet.