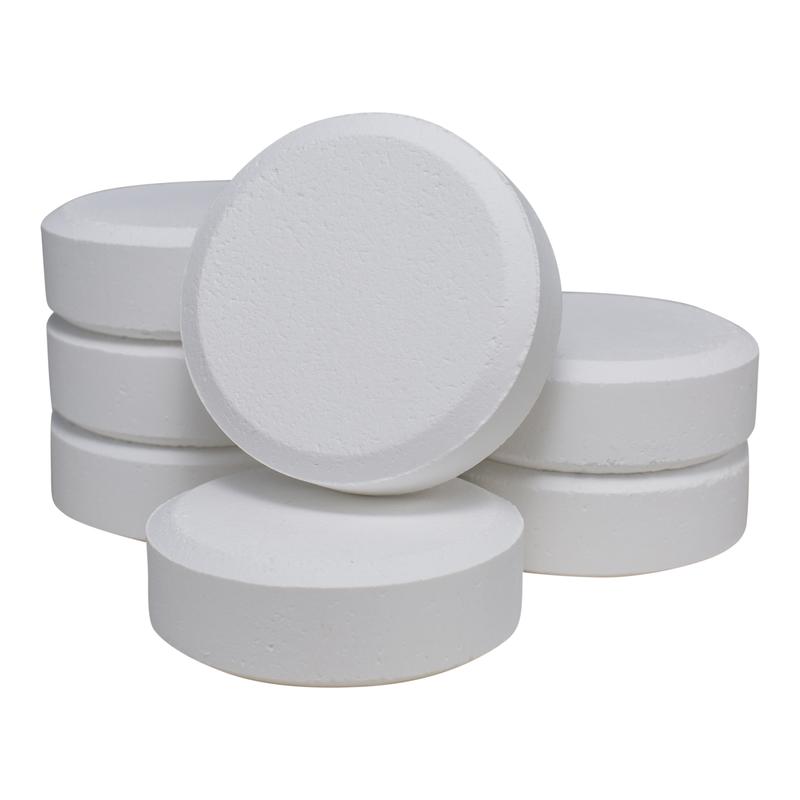 20 lbs Slow Dissolving 3 Inch Chlorine Tablets
---
20 Pounds  Slow Dissolving 3" Chlorine Tablets 
Your swimming pool water is cleaner & safer when your water chemistry is properly maintained. Maintaining the water chemistry of your swimming pool is possibly the most important aspect of pool care and can even save you money. Chlorine tablets are one of the key chemicals to maintaining your pool water, and 3 inch chlorine tablets are the most popular among long-time pool owners. 3 inch tablets are thicker than other pool chlorine tablets, allowing them to dissolve slower and protect your pool water for longer. Moreover, 3 inch chlorine tablets are the ideal size for your floaters or automatic feeders.
Sanitation and Disinfection is the most important aspect of good pool water chemistry, and powerful  3 inch chlorine tablets are 99.3% available chlorine, and sun-stabilized, to make it easier to maintain any outdoor pool. 20lb slow dissolving Chlorine Tablets are the way to go to maintain your pool. Dont end up buying other less concentrated chlorine tablets. 
Slow dissolving3" chlorine tablets are used to deliver a daily dose of chlorine to your pool water, so your pool has a constant and consistent level of chlorine. These jumbo chlorine pucks help you avoid peaks and valleys or inconsistent chlorination, so common when using granular or liquid chlorine to sanitize a pool. Having balanced pool pH and Alkalinity levels also makes your swimming pool water safer and cleaner by making your chlorine more effective.
This product has no reviews yet.